One man's "minor" revenge on the customer behind him at a Steak 'N Shake drive-thru has earned him a rousing round of applause online.
The proportion of Americans using drive-thrus has risen since COVID-19 hit the US, when many restaurants were closed. According to a 2021 study by a mobile marketing company bluedot74 percent of U.S. consumers have used a drive-thru since the start of the pandemic, up 43 percent from April 2020.
'Little' Revenge
In a video With 7.4 million views, TikTok user Nicole Christine captured her husband Kyle's reaction to a customer honking behind them at the Steak 'N Shake drive-thru line.
"These people here behind me are assholes," Kyle told her. "I'm going to buy their meal and take it with me."
"Don't," says the woman filming from the passenger seat, but he doesn't listen.
The cashier then opened the window and confirmed his order from the drive-in window.
"Yeah, and whatever they have, I'm going to buy it and take it," he told her.
'Behind you? Okay,' said the cashier, who didn't quite get it at first. "Because they keep honking?"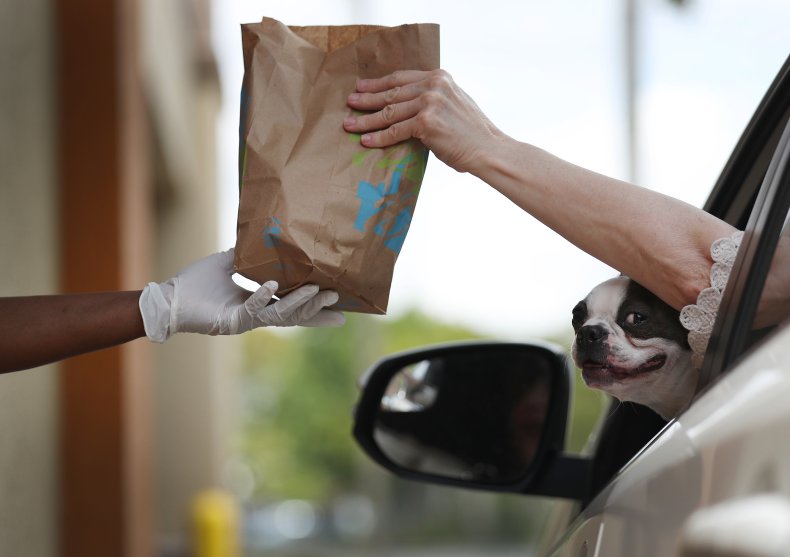 "Yeah, that's why," Kyle said. "I want to buy it and I want to take it with me."
"No, don't," said the woman filming, but again she was ignored.
"Oh," the cashier replied, her eyes widening as the customer's plan dawned on her.
"Yeah, then they can walk around again," he added.
Visibly smiling, the cashier closed her window and went to seek advice from another employee. A man who appeared to be her manager leaned out the window.
"Can I buy their order since they are assholes and take it with me?" Kyle asked him.
"Yeah, I don't care," replied the blasé manager. "I'll kick them out of line."
TikToker Takeaways
TikTok viewers were confused about the customer's extensive effort to slightly obstruct the base behind him.
"Oh, I love a good Petty Betty moment," said an amused comment.
Another added: "GENIUS!!! Even if the restaurant does their order again, it's the fundamental fact that happened to them, I love it!"
But even more popular than Kyle were the workers who casually sided with him.
"Manager is great," said one of the many viewers raving about the Steak 'N Shake staff.
"Of course they got his meal ready again quickly. Manager recognized more $$$," commented another.
Drive-thru has become the site of much more violent disputes in the United States.
An Atlanta Metro employee shot dead for her son on Sunday after an argument with a customer over "too much mayonnaise on his sandwich," the restaurant announced.
In May, a dispute at a Taco Bell drive-thru in California reportedly resulted in a man shooting at another customer's vehicle and hitting him at least once in an attempted manslaughter.
And in 2019, a woman reportedly became so furious with a KFC employee for her lack of kitchen utensils that she fired through the drive-thru window†
news week reached out to Christine and Steak 'N Shake for comment.