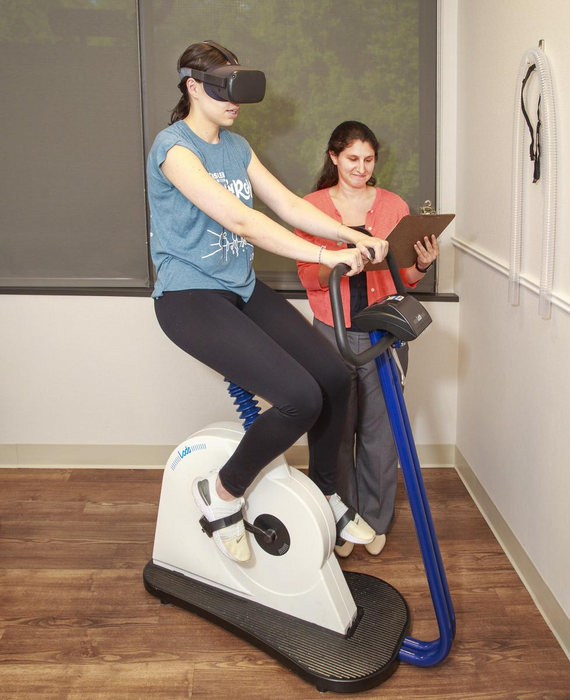 East Hanover, NJ. June 30, 2022. In a recent paper, scientists at the Kessler Foundation advocated the integration of virtual reality (VR) technology into cognitive rehabilitation research in multiple sclerosis (MS). They presented a conceptual framework supporting VR as an adjuvant to traditional cognitive rehabilitation and exercise training for MS, with the theory that VR could enhance the effects of traditional rehabilitation therapies by increasing sensory input and promoting multisensory integration and processing.
MS and exercise researchers Carly LA Wender, PhD, John DeLuca, PhD, and Brian M. Sandroff, PhD, wrote the review, "Developing the rationale for incorporating virtual reality into cognitive rehabilitation and training methods for managing cognitive dysfunction in MS," which was published in open access on April 3, 2022 by NeuroScience as part of the Special Issue Cognitive impairment and neuropsychiatric dysfunction in multiple sclerosis
Article Link: https://doi.org/10.3390/neurosci3020015
Current pharmacological therapies for MS are ineffective for cognitive dysfunction, a common consequence of MS that affects the daily lives of many people. This lack of efficacy underscores the need to consider other approaches to manage these disabling cognitive impairments.
The inclusion of VR technology in rehabilitation research and care for MS has the potential not only to improve cognition, but also to facilitate the transfer of those cognitive benefits to improvements in daily functioning, the researchers said. Brian Sandroff, PhDsenior researcher in the Center for Neuropsychology and Neuroscience Research at the Kessler Foundation. "With VR, we can significantly increase the engagement and volume of sensory input," he envisions. "And by promoting multisensory integration and processing, VR may enhance the effects of the two most promising non-pharmacological treatments: cognitive rehabilitation and exercise."
Virtual environments are flexible and varied, allowing researchers to control the range and progression of cognitive challenges, with the potential for greater adaptations and stronger intervention effects. VR also allows for the incorporation of cognitive rehabilitation strategies into exercise training sessions, which may support a more direct approach to improve specific cognitive domains through exercise prescriptions. The application of VR to stroke research has shown greater improvement in motor outcomes compared to traditional therapy, as well as greater neural activation in the affected area of ​​the brain, suggesting greater gains may be made over time. are being reached.
dr. Sandroff emphasized the largely conceptual benefits of using VR to treat cognitive impairment in individuals with MS. "More clinical research is needed to investigate the efficacy of combining VR with cognitive rehabilitation and/or exercise training, and the impact on daily functioning in people with MS," concluded Dr. sandroff. "The conceptual framework we outline includes examples of ways in which immersive and interactive VR can be incorporated into MS clinical trials that will form the basis for larger randomized clinical trials."
For more information about rehabilitation studies at the Kessler Foundation, email [email protected]
About Kessler Foundation
Kessler Foundation, a major disability nonprofit, is a global leader in rehabilitation research that aims to improve cognition, mobility and long-term outcomes, including employment, for people with neurological disabilities caused by diseases and injuries of the brain and spinal cord. Kessler Foundation leads the nation in funding innovative programs that increase employment opportunities for people with disabilities. For more information visit KesslerFoundation.org†
For more information or to interview an expert, please contact:
carol murphy, [email protected]†
Deb Haus, [email protected]
Stay connected with Kessler Foundation
Twitter † facebook † YouTube † Instagram † iTunes & SoundCloud
---
Research method
Systematic review
Subject of research
People
Article title
Developing the rationale for incorporating virtual reality into cognitive rehabilitation and training methods for managing cognitive impairment in MS
Article publication date
Apr 3, 2022
Disclaimer: AAAS and EurekAlert! are not responsible for the accuracy of any press releases posted on EurekAlert! by sponsoring institutions or for the use of information through the EurekAlert system.