In my dream a sweet grass breeze blows through the open door. In the background, birdsong weaves in and out of earshot, as if passing through water. My fingers run over the red checkered tablecloth laden with homemade pickles and jams of all kinds, a perfect yellow summer sun glistening through the glass. I raise a hand to protect my eyes, and through the gaps in my fingers I can just see my mistake. It's not the sun at all; it's Linda Skeens' award-winning canned corn, beautiful and terrible as dawn, and all the honest contestants cringe at its magnificence.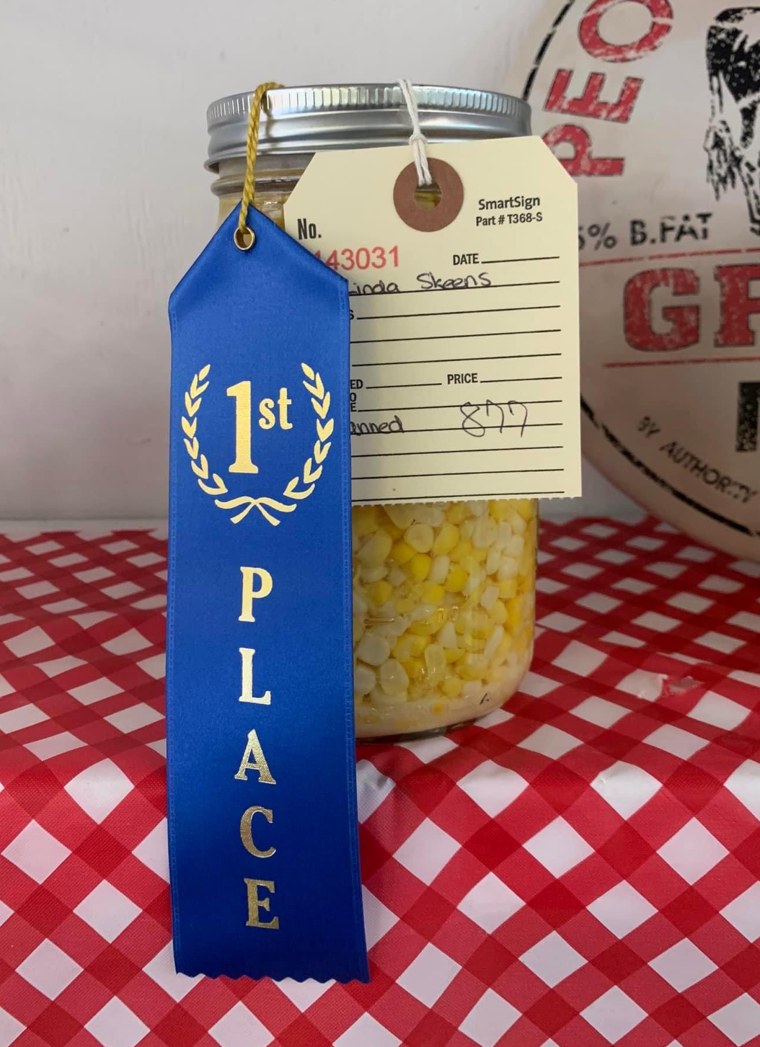 The Virginia Kentucky District Fair may have crowned her champion of baked goods, but the internet has made her queen.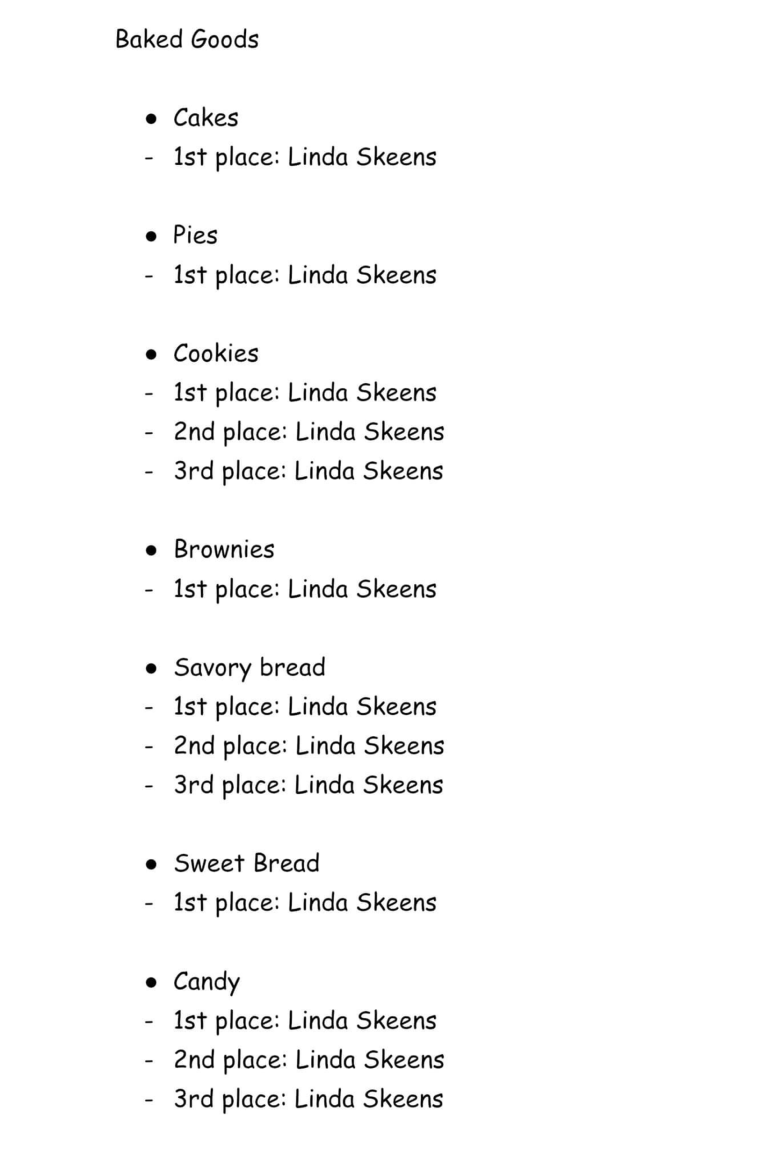 Held annually since 1913, the VaKy Fair attracts an average of about 14,000 visitors from Wise County, Virginia and neighboring Letcher County, Kentucky. It offers rides, live music, bull riding, motocross, a horse show and competitions in arts, agriculture, crafts and home economics. No word on whether she entered the bull riding competition, but Skeens cleaned up in the home economics department. She won every place in every category of Baked Goodsmany of those in canned food, and also took best overall in most of those categories. A true Renaissance woman through the ages, she even placed in Embroidery and Wall Decor. The comments have called this phenomenon a "Skeens Sweep".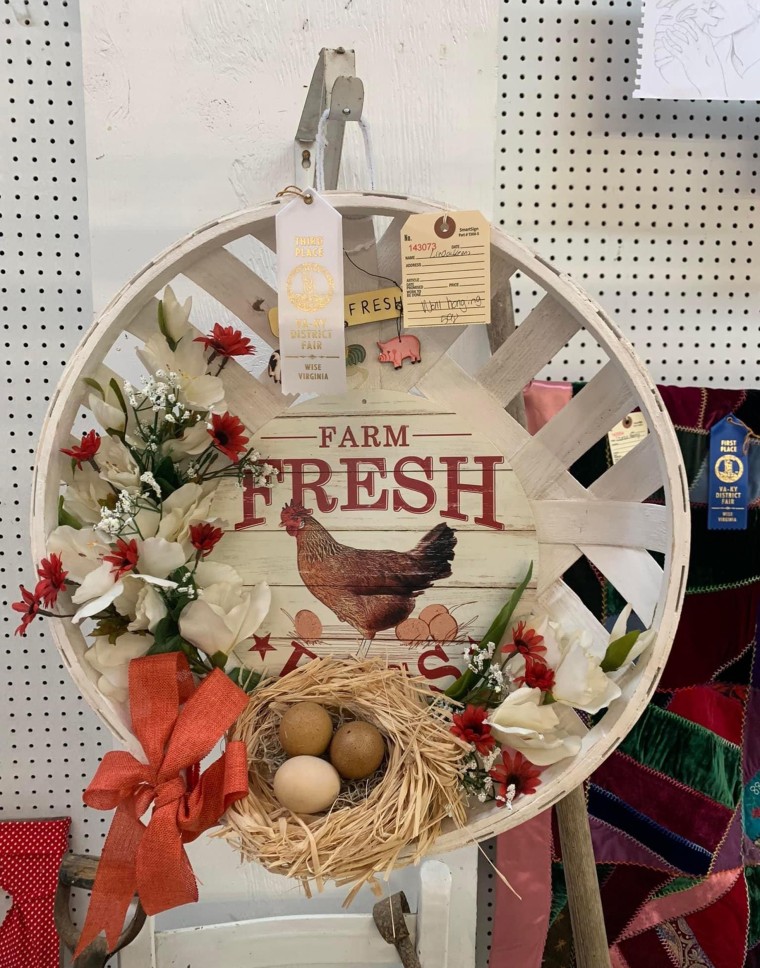 The entire internet is on fire with her fandom. There are thousands of comments, memes and calls on her and Sharon from "Thanks, Marie Callender" to work together. There's a whole parody Facebook group using her name, people advocating for a cookbook or interview to learn more about how she rose to the top of her game, and more than one Linda Skeens posting that she have received dozens of messages and want to let everyone know they are not That Linda Skeens.
A Virginia Skeens-but-not-those-Linda-Skeens I spoke to said she's been getting messages from Baking Queen admirers from Norway and Indonesia. "Everyone has been incredibly cool, funny and fun," she says, "(people) got the joke and I'm having a blast."
The fair has been over for two weeks, but if anything, the knowledge is still building. "Linda Skeens is not here to make friends," Maria Durbin said in the fair's original post, "just here to make HISTORY."
But in true Slim Shady fashion, the real Linda Skeens has yet to stand up.
I can't really blame her; the hype must be discouraging. The comments, my god, the comments! Lacking verifiable details, the rumor is collective entertainment. People wonder if she was the only contestant, or they argue that maybe everyone in Wise, Virginia is called Linda Skeens. They call her the 'John Wick of Canning' and there are countless Chuck Norris jokes. Insinuations that she might kill (or be killed by) her closest competitor, as well as mini-fanfiction dramas to rival "Game of Thrones." In it, Linda Skeens saved a family from a burning house, played catering fairy at a wedding and left only the smell of fresh apple pie, or rescued a kitten from a tree by baking a baguette ladder underneath. "Linda saved me hundreds of dollars on my auto insurance," says Caren Rose.
Desperate to talk to Skeens and hopefully discover the secret to her Best Overall Baked Good-winning Strawberry Fudge (!), I contacted the exchange to see if we could get the skinny. Spokesperson Jennifer Sturgill told me that Skeens won 25 of the 29 categories she entered, and contrary to popular belief, she was often not the only entrant – she's just that good. As a fellow Southerner who knows well that craft and cooking competitions are the bread and butter (pickles) of the provincial funfair, with stiff competition from many talented participants, I am in awe of that achievement. So are many social media commentators, and they're clamoring for a cookbook. Is one published every year like some scholarships I ask Sturgill hopefully? "I've certainly been asked about a cookbook, and right now I'm not, but I'm not saying it can't happen in the future."
That's good news anyway, but would Skeens talk to us? "Unfortunately, Linda is currently refusing interviews," was the reply.
As I said, I find this understandable; she doesn't seem to be on social media, and this must be overwhelming for one person to deal with. Sturgill said the exchange's employees are having a hard time dealing with the publicity, and there are 15 of them. But honestly, I think I prefer the mystery. As it stands, Linda Skeens could be anyone you meet on the street, slip in to share her wonderful brownies with the world, and slip out undetected, like a bakery Banksy. So the medium is the message: Delights still exist in these difficult and chaotic times. In any case, we can rely on the immortality of a well-leavened bread or a perfect biscuit.
"Everyone needs a Linda in their life," Katie Cortes said on Facebook, and I believe that's true. It explains why such a large part of the internet is so captivated.
I have a feeling that the VaKy District Fair will have a wider reach next year than in years past. Sturgill tells me they already have the dates lined up, so mark June 13-17, 2023 in your calendar. Legend has it that if you get there early, when the birdsong still rises and falls with dawn, you may just catch a glimpse out of the corner of your eye of someone putting a plate of strawberry fudge on the table, or inhale the scent of a freshly baked apple pie. .