intro
The Samsung Galaxy S22 Ultra has been out since early 2022 and is already throwing dust over the smartphone world. With its premium build, super powerful Snapdragon 8 Gen 1, S Pen and the most beautiful display on a smartphone, it is a force to be reckoned with.
Well, in the fall of 2022 we'll see Google's very own warrior get a makeover – the Google Pixel 7 Pro has been confirmed by the company and will be back to show us how mobile photography is done, with its custom Tensor chip that is developed specifically for photo processing and AI functions.
So these two devices represent the best of Samsung and the best of Google. But there's one very important difference: it's very likely that Google's Pixel 7 Pro will cost significantly less than the Galaxy (starting at $900 versus $1,200). Will these phones have a $300 difference? Or will the Pixel 7 Pro win outright in some areas? We'll think about this until we get the device in hand so we can test it!
Pixel 7 Pro vs Galaxy S22 Ultra in a nutshell:

Google Android vs Samsung OneUI

CPU: Tensor 2 vs Snapdragon 8 Gen 1 (or Exynos Internationally)

6.7″ 120Hz OLED vs 6.8″ 120Hz AMOLED

Triple camera with 20x zoom vs quad camera with 100x zoom

$900 vs $1200
Index:
Design and display quality
We are OLED to see you
In terms of screens, we expect two high-quality OLED panels to battle it out. Samsung has been at the top of its display game for years, and the Galaxy S22 Ultra's Dynamic AMOLED looks simply fantastic. It also helps that there are a number of calibrations to choose from so you can really fine-tune your experience whether you want punchy colors or understated and realistic tones. The Pixels' OLED displays are pretty good too, so it's going to be a close call here. Plus, both phones have a 120Hz refresh rate and a QHD resolution, so it's a tough one.
OK, the Pixel 7 Pro has a slightly smaller 6.7-inch diagonal compared to the 6.8-inch on the Galaxy S22 Ultra.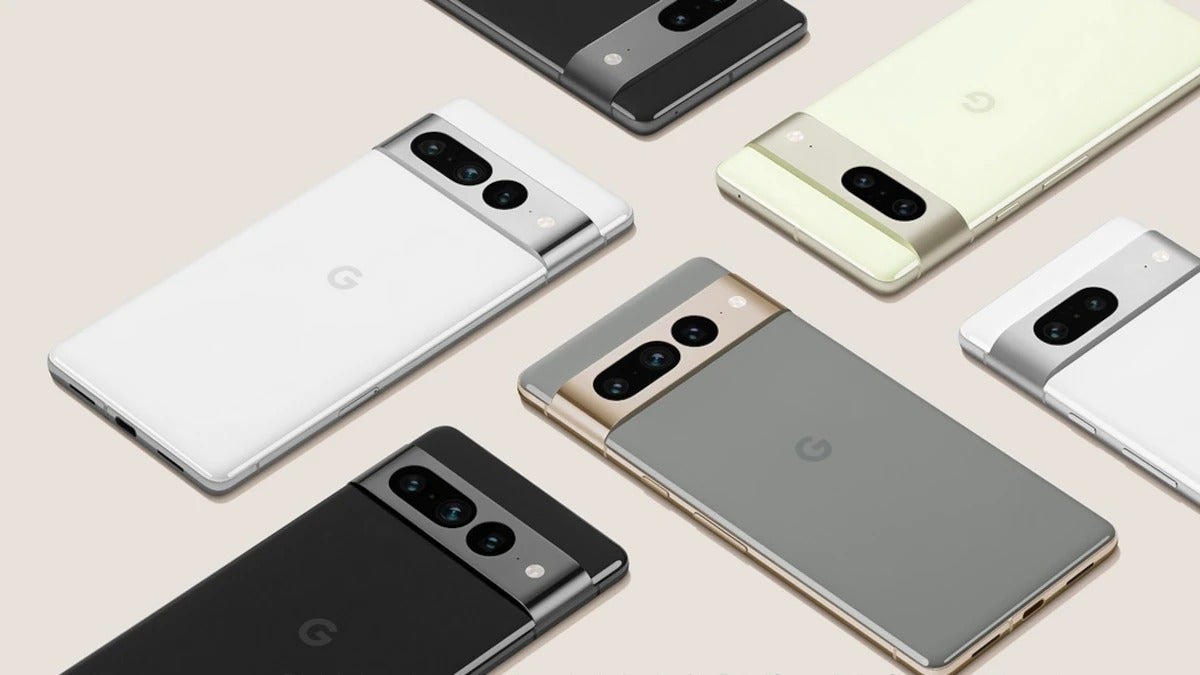 In terms of looks, we have separate designs on both phones. Curved screens in the front, yes, but vastly different rears. The Pixel 7 Pro repeats the RoboCop visor look for its camera module, Samsung does its angle camera glued to the frame of the device. Both designs have proponents and haters. We at the office are also divided, so it's safe to say this is strictly to taste.
What's the same is the fact that both phones have frosted glass backs – great for keeping fingerprints away, not so great for being slippery against dry hands. However, the Pixel's camera bar has proven useful on the Pixel 6 series by allowing us to rest our fingers comfortably against it and grip the device better.
Needless to say, both phones are water and dust resistant. The Galaxy S22 Ultra has an IP68 rating and the Pixel 7 Pro will likely have the same. Benefits such as stereo speakers, wireless charging and the complete lack of a headphone jack are also present. But the Galaxy S22 Ultra does have the coveted S Pen for anyone who prefers to take notes or draw on their phone. There's a good reason the S Pen has been around for a decade – it's useful and it feels great.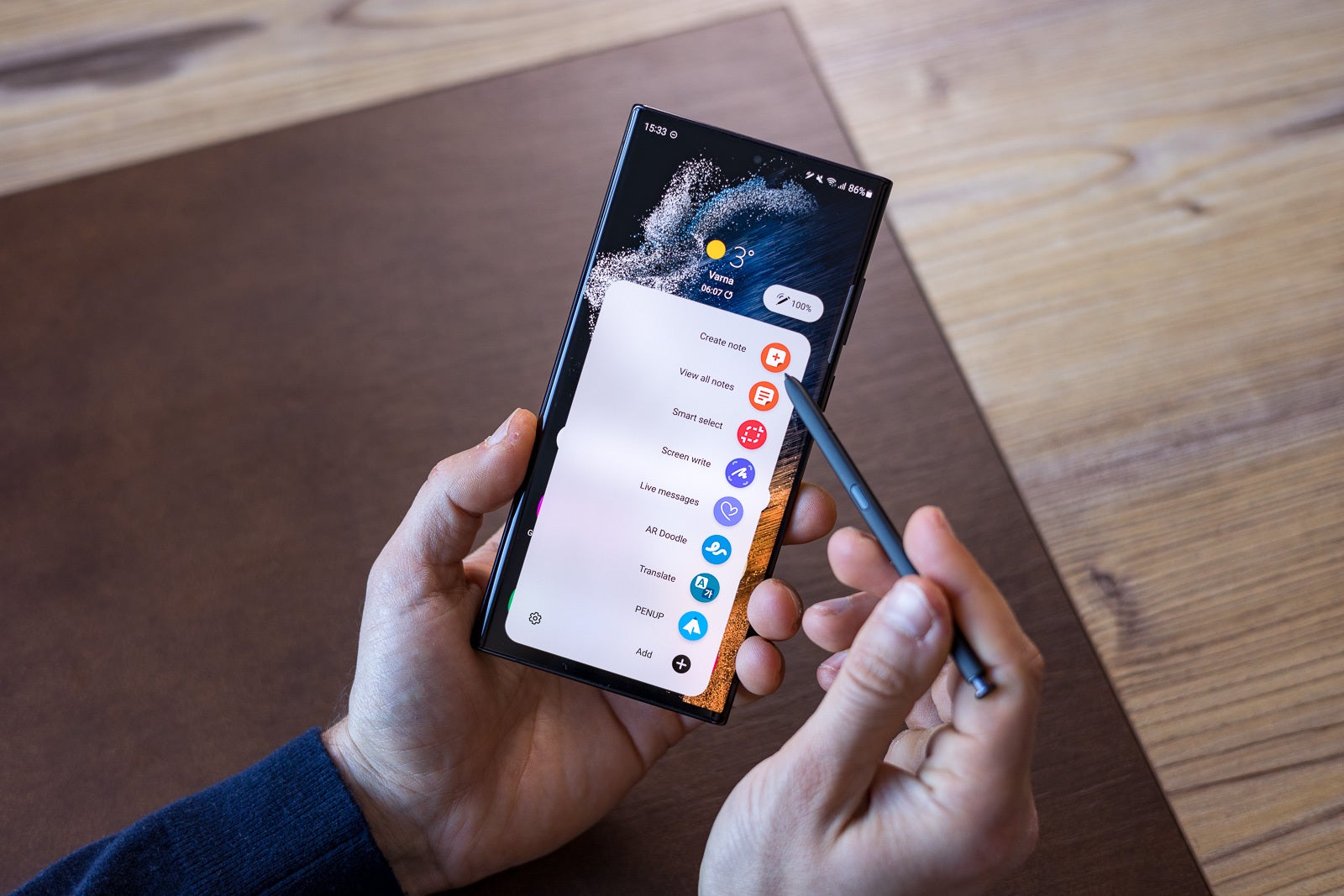 When it comes to colors, you do have a wider choice if you go for the S22 Ultra, but only if you buy from Samsung.com. Retailers get black, white, burgundy and green, while Samsung's webshop offers sky blue, red and graphite. The
Pixel 7 Pro Colors
are a bit more basic, but still have a classy shine. They are black, white, and gray with a gold frame (aka Obsidian, Snow, and Hazel).
In terms of security, we have a fingerprint scanner under the screen on both phones. Samsung uses its ultrasonic fingerprint scanners, which the company says are more accurate and harder to deceive. However, they are sometimes slow to respond and many online users report minor annoyances with them. The Pixels use optical scanners, which should be faster than Samsung's tech, but the Pixel 6 line hasn't really fared well. Again, many read errors or slow response times were reported. We'll see how the Pixel 7 Pro fares.
Performance and software
Wait, so are Exynos and Tensor brothers?
Google has been using a custom Tensor chip for its Pixel phones since 2021. In the Pixel 7 line, we expect a new and improved Tensor 2. Fun fact: the chip may be built to Google's specs, but it's made by Samsung.
Meanwhile, Samsung's Galaxy S22 Ultra is powered by the Qualcomm Snapdragon 8 Gen 1 (in the US and South Korea) or Samsung's own Exynos 2200 chip (international markets).
What does this mean in terms of performance? Obviously the new Tensor isn't out yet, so we can't be sure. Last year's Pixel 6 is anything to go by, though, know this: the Google Tensor chips aren't made for raw performance. They focus on having cores dedicated to computational photography and AI functionality. In other words, Google takes the "Work smart, not hard" approach.
In benchmarks, the 2021 Tensor lagged behind its top competitors. In real life, the Pixel 6 and Pixel 6 Pro were pretty solid phones. We expect a repeat of the same story once the Pixel 7 Pro and the Tensor 2 come out.
Camera
King, meet the king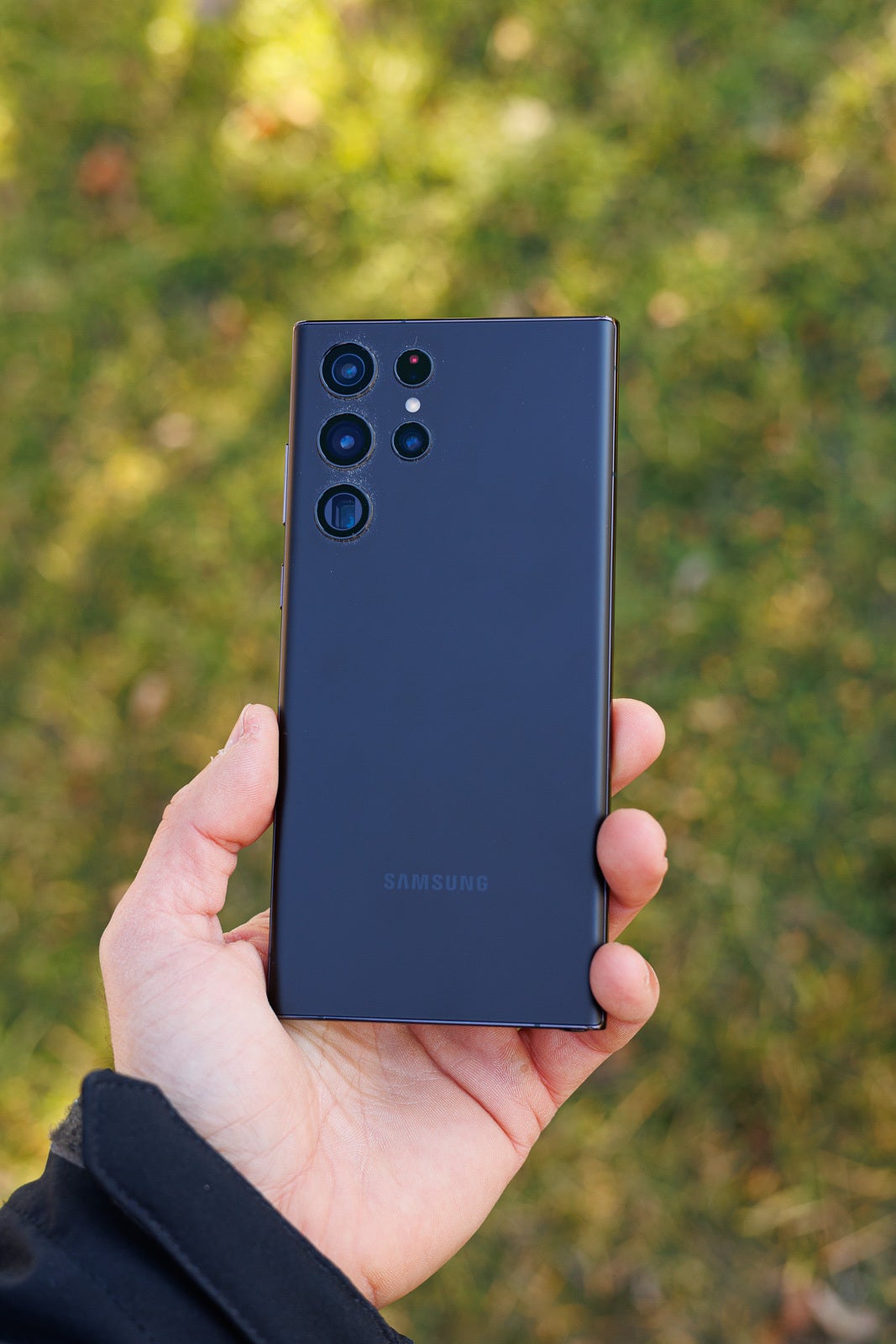 OK, so Samsung is pretty good with its cameras, right? The Galaxy S22 Ultra is, in fact, a champion – it has four cameras, two of which are dedicated to optical zoom (a 3x portrait camera and a 10x zoom camera), and tons of software post-processing that allows 100x digital zoom that looks way better than it should, actually. The main sensor is a massive 108MP, the ultra-wide camera has a 12MP, and the zoom cameras are both 10MP.
But Google's Pixel is definitely not to be underestimated. Last year, Google updated the sensors it uses, so the main camera now has a 50MP sensor. And it traded blow for blow with Samsung's S22 Ultra, no problem. Check them out both dominate this camera comparison† We expect the Pixel 7 Pro to have a 12MP ultra-wide angle lens and a 48MP zoom camera in addition to that 50MP main camera. And we expect the Pixel 7 Pro to definitely bring the camera chops of its predecessor, only refined.
Audio quality and haptics
In terms of haptic response, both the Pixels and Galaxies have precise and responsive clicking vibration motors. The Pixel's feel great, the Galaxy's are pretty good (but not that great).
In terms of audio, the Galaxy S22 Ultra is very good and can be further adjusted via an on-board app. The Pixel 6 Pro was a bit of a let down – not bad, but not great. We'll see how the Pixel 7 Pro presents itself.
Battery life and charging
A day for a day
We don't have exact specs on the Pixel 7 Pro yet, but if we were to take a guess, we'd think it would have a battery of around 5,000 mAh. That's what the Pixel 6 Pro had and it's generally what most mainstream smartphone makers manage to cram into their devices.
The Galaxy S22 Ultra also has a 5,000 mAh battery. It's not a battery champion, but you can easily get through a day with it. We bet that the Pixel 7 Pro will give us the same result.
As for charging, the Galaxy supports up to 45W Fast Charge. The Pixel 6 Pro peaked at 30W and we're not sure if Google is willing to push that particular envelope at that point. In any case, both phones come without a charger in the box. If you buy the official one for the device in question, you should be able to get a top-up for both in less than 2 hours.
Wirelessly, the Galaxy S22 Ultra can be charged with 15W pucks, while the Pixel 7 Pro should be able to do at least 23W, as that was what its predecessor was capable of.
Specifications comparison:
Merging all and viewing raw sheet data side by side currently looks like this:
| Specifications: | Google Pixel 7 Pro | Samsung Galaxy S22 Ultra |
| --- | --- | --- |
| Dimensions | 6.45 x 2.99 x 0.34 inches (163.9 x 75.9 x 8.7mm) [?] | 6.43 x 3.07 x 0.35 inches (163.3 x 77.9 x 8.9mm) |
| Weight | [?] | 8.08oz (229.0g) |
| Screen | 6.7″, OLED, 1440p, 120Hz | 6.8″, dynamic AMOLED, 1440p, 120Hz |
| Processor | Google Tensor 2 | Qualcomm Snapdragon 8 Gen 1 (Samsung Exynos 2200) |
| RAM | 12GB | 8GB |
| rear cameras | 50MP wide angle, 48MP 4x zoom, 12MP ultra wide angle | 108MP wide angle, 10MP 3x zoom, 10MP 10x zoom, 12MP ultra wide angle |
| Front camera | 11.1MP | 40MP |
| Battery Size | 5,000 mAh [?] | 5,000 mAh |
| Charging Speeds | 30W wired, 23W wireless [?] | 45W wired, 15W wireless |
| Price | $899 [?] | $1,199 |
So we have two phones that clearly do their own thing. The Pixel 7 Pro most likely won't have the great zoom capabilities of the S22 Ultra, but we're pretty sure it will give its main camera value for money. Well… while it costs less, yes. What remains to be seen is how the new Tensor will perform.
Summary and final verdict
The Google Pixel 6 series was a great new chapter for the Pixel line. What started as the Google Nexus – a niche phone for geeks – turned into the OG Google Pixel about 6 years ago. At the time, it looked like it was being delivered below its asking price. But after years of fine-tuning and balancing, Google found a balance. Its own design language, its own fantastic camera performance and its own AI loaded onto a phone that is reasonably priced by today's standards.
Admittedly, the Pixel 6 phones had some issues for the first few months. If the Pixel 7 Pro irons out all the kinks and sticks to the landing, it may have just what it takes to pull loyalists away from the Galaxy S22 Ultra.