A mother has been criticized after asking whether it is unreasonable to bring two children to a wedding, despite the bride and groom insisting they don't want children there.
The mother, presumably from England, was invited to visit her cousin wedding but was told her children were not invited because she was predominantly a childfree marriage and did not classify his second cousins ​​as "immediate family."
Except for the groom's daughter and cousin, no children were invited; however, the mother was concerned about leaving her 8 month old baby at home because she is alone breastfed†
She explained that her baby could not wean on a bottle because she has allergies and refuses the milk alternative they give her.
The mother asked the bride and groom if she could bring her baby and 2-year-old son to the wedding and offered to pay £100 ($121) for the toddler's food, but the couple declined, claiming they had other requests from guests had refused to bring their children.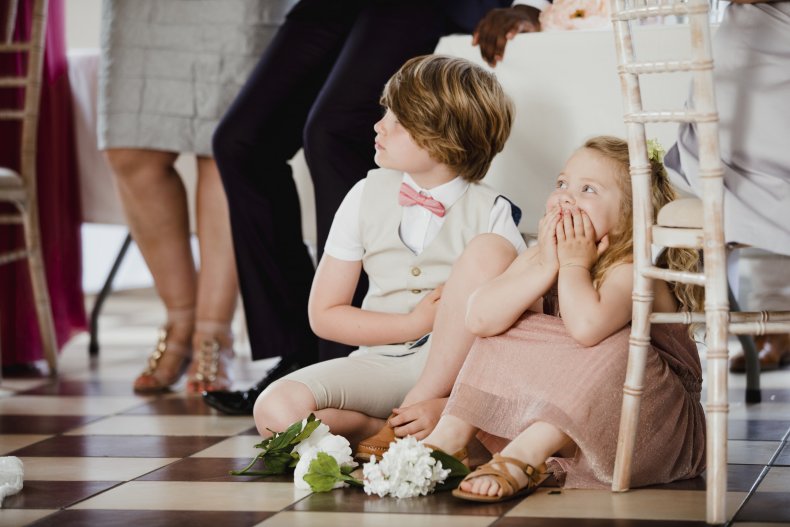 She posted on Mumsnet under the name Buffyzombie and asked: "AIBU [am I being unreasonable] to think they should let me bring the kids because it's different because the baby is sick and I can't physically leave her or should I just accept that my presence is clearly something they don't care about?
"In my opinion, is it better to have two guests you originally invited plus baby and toddler that we would pay for than to lose two guests you originally wanted there because you say no children are welcome no matter the circumstances? "
The message, which can be found herereceived more than 100 responses, with other users insisting that the bride and groom have every right to decide whether to allow children at their wedding.
One wrote: "Yabvu [you are being very unreasonable] – if they say they aren't kids, they aren't kids (and a 2 year old wouldn't care!) Stop feeling unjustifiably guilty about them and just refuse."
Another said: "YABU [you are being unreasonable]† They don't want children, no matter what they eat. Decline the invitation. Good luck with weaning and bottle feeding."
A third wrote: "Yabvu. It's not your wedding. You've known their wishes all along. Politely decline, which I'm sure, given what you've explained, they'll expect anyway, and don't embarrass yourself or them by asking again. Frankly, other people's toddlers and babies aren't that important to anyone except their parents, especially on the bride and groom's day.'
Another commented: "YABVU and if you don't just ask for your BF [breastfeeding] child, but also your other child! Very cheeky and at two o'clock he really won't know he's missing anything.
"Is there a reason you can't pump and leave bottles there for someone to feed your baby while you're at the wedding? In all honesty I think you should decline because it doesn't sound like you would relax enough to enjoy it." without the kids there."