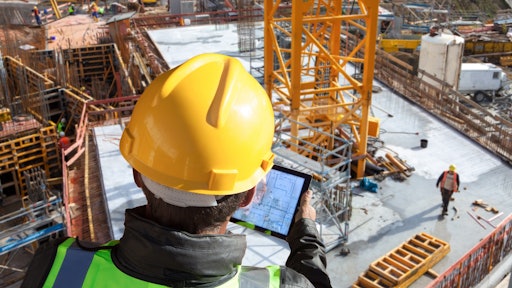 Now that construction workers can access the digital tools they need from a portable device that connects to the Internet, workers are more likely to use the device while moving or trying to complete multiple tasks, posing a safety risk to everyone.
©sculpies – stock.adobe.com
The way we work has changed dramatically in recent years. Employees can work almost anywhere, anytime – thanks to the evolution of mobile connectivity. More than three quarters of the world's workforce works outside the walls of an office. But it's not just about enabling the mobility of traditional work; It turns out that many workers in the concrete construction industry are increasingly dependent on mobile technology to perform their jobs, as the construction industry is under increasing pressure to keep up with digital transformation. As a result, contractors must enable a more connected workforce.
It is important to recognize first that wearable and mobile devices are two different branches of the same tree. Mobile devices certainly lend themselves to being portable, but portable devices — think technology like laptops — don't necessarily lend themselves to true mobility.
In the past, construction workers may have had access to laptops, and while they are portable, they don't have the same degree of portability as a smartphone or tablet. Given the way wearable devices are used, they require management strategies that focus more on securing the device and what's on it, rather than justification for what the employee does while using it. However, workers who actively use a portable device are most likely sedentary and physically safe – they do not work around or operate heavy machinery.
Now that construction workers can access the digital tools they need from a portable device that connects to the Internet from anywhere, workers are more likely to use the device as they move or attempt to complete multiple tasks. This can pose a safety risk to the employee and his colleagues.
Understanding the difference
It is important to understand the distinct differences between mobility and portability. The best way to make this distinction is with one word: size. Wearable and mobile are two terms with different implications that are often used to describe different subsets of connected devices – while mobile devices and wearable devices can both be moved from place to place, the form factor of mobile devices allows people to use them while they are physically moving or engaged in other tasks. In the context of the concrete construction arena, mobile devices allow workers to stay connected to digital workflows without having to find a place to use their laptops and connect to the internet in less than ideal conditions.
| | |
| --- | --- |
| Mobility | Portability |
| The form factor of the device facilitates use in almost any environment regardless of location, proximity, movement, etc. | Device form factor limits use to stationary sessions |
| User Central | Device central |
Weighing the benefits and risks
It is certainly valuable to enable connectivity anytime, anywhere, and while the benefits are many, there are some risks that you should be aware of.
The biggest advantage of a mobile device is that it can be used anytime, anywhere. With this mobility, employees have real-time access to information every second of the day. Smartphones and tablets have created the opportunity for desk-bound people to work digitally, and companies are then looking for ways to digitize many workflows through mobile apps.
Now let's talk about some of the pitfalls of mobility. As smartphones have no limitations on usability, there is an increasingly complex set of security risks, both on and off the clock. There may be little room to interpret how to use mobile devices, if at all, depending on contextual factors such as location, movement, or time of day. Whether an employee is driving between jobs, walking on scaffolding, or operating dangerous machinery, being distracted by a device could put that employee and others at risk. Contractors are required to ensure the safety of their employees while using mobile devices.
Mobile Device Management
There are still so many employers implementing Mobile Device Management (MDM) from the lens of portability, even though we have seen mobility evolve rapidly. The problem is that traditional MDM pays little attention to how the device is used and focuses mainly on the device and network security. Since a few years, almost everything that can be done on a laptop can also be done on a smartphone. Therefore, mobile devices must be able to support specific business groups, departments, and work roles in different situations and environments.
Construction managers must ensure that MDM and usage policies are focused on creating a space for efficient and productive use of mobile devices for any task across the business. Another concern that comes with deploying traditional MDM solutions is that while they help enforce policies, the creation of user personas is quite static and based on a user's role rather than ability. to dynamically adjust based on a user's location, what they want. do, when they do, or other contextual elements.
Match mobile devices to context
All of the above issues raise important questions about how contractors and business leaders can minimize the risks of mobility for their employees. One of the most important is: How can construction managers implement strategies to manage flexible device usage while still ensuring that their employees can access content and applications when it is safe to do so?
By adding a layer of context to mobility management strategies, contractors can keep workers safe while mobile. By using contextual triggers in contextual mobility management (CMM) software, employees can use the applications they need when they need them. Construction workers are rarely limited to one area, and CMM recognizes that. As the employee's context changes, so do mobile permissions – automatically and synchronously.
Ensuring safety and security
With mobility management software and rational mobile device policies that consider the context of construction worker roles, contractors can strategically manage mobile device usage while increasing productivity and safety. Implementing CMM can dynamically and automatically adjust mobility access, resulting in a proactive approach to security that enables easy enforcement. Contractors can create a safe and secure environment by providing workers with a balance of connectivity and productivity, while enabling mobility for their construction workers.