During the Haute Couture Fashion Week in Paris, famous celebrities including Kim Kardashian and Dua Lipa walked the catwalk at Balenciaga's fashion show and the internet has thoughts.
Posted in viral videos on Vogues social media platforms, viewers got an exclusive look at the high-end fashion brand Balenciagas show where celebrities like Naomi Campbell, Bella Hadid, Nicole Kidman, Dua Lipa and Kim Kardashian showcased the brand's latest collection.
Balenciaga showed off many pieces that stood out including unique dresses in many different colors along with suits, jackets and bathrobes. The latest model, Inti Wang, wore a pink one-shoulder dress. The internet had opinions on these looks, most of them commenting on the way the models walked. They kept a straight face and walked slowly, making sharp turns.
Kardashian wore a black fitted dress with a matching pair of gloves and a pair of black heels. Lipa stepped down the runway in a yellow one-shoulder dress with a train to follow with a pair of arm-length gloves and black heels. Kidman showed off one of Balenciagas one-shoulder dresses that were silver with black gloves and heels. Campbell wore a striking black dress with matching black gloves.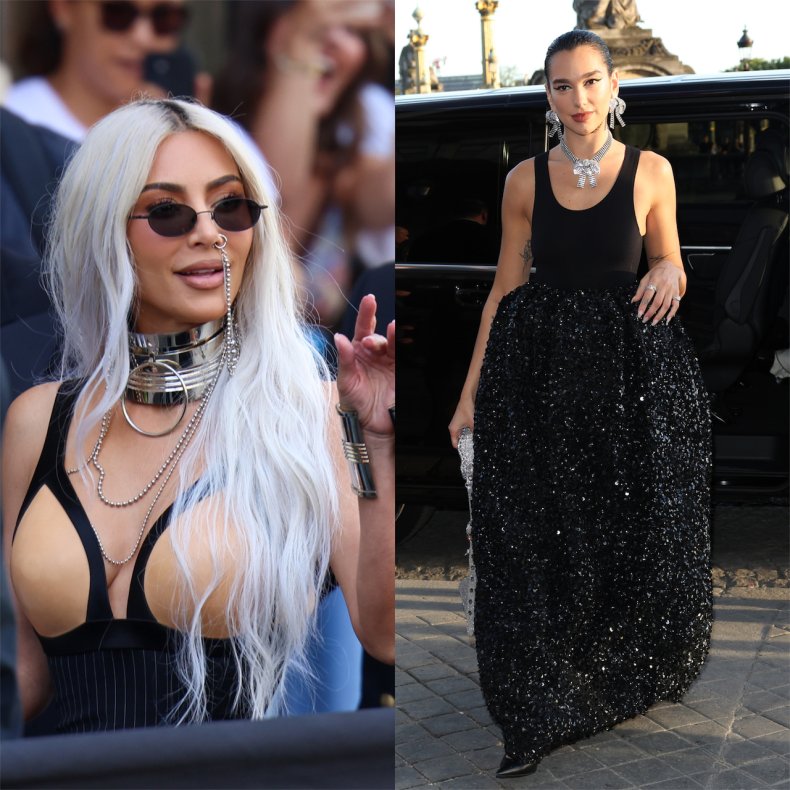 Many users on social media have their thoughts and opinions about the show.
"Everyone is so cringe except Naomi. There are supermodels out there for a reason," says one user Instagram commentary.
"Nicole was wearing some aluminum foil and Naomi was carrying a garbage bag," said another, criticizing their outfits.
"This looks like a parody. So weird," one user wrote.
"This seems so clunky," said another user.
One asked, "Why does it look funny to me?"
"The vibe like when you're a kid and your mom makes you put on that outfit you hate," one user joked.
"Was Nicole drunk or was that the order cauusee!? Lmao. Kim and Naomi looked beautiful, dresses are beautiful," laughed one user.
Another asked, "Why are they all walking so strangely and why not pick a location with doorways big enough for the dresses to pass through?"
"Those dresses look like the draped shower curtains draped over them," said one Instagram user.
One user added: "Love Kim, but Kendall needs to give her some walking lessons. She looks beautiful as always, but Naomi looked fierce."
"That small doorway for those big dresses is ridiculous," commented another.
Every year, popular fashion brands show off their latest collections to the world during Fashion Week† With a variety of shows taking place throughout the week, fashionistas get their first glimpse of new trends in the fashion world. Fashion Week takes place in the "Fashion Capitals of the World": Milan, Paris, New York and London.